About Wellington Eye Care & Diabetes Eye Center of Northern Colorado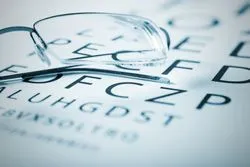 On a drive from Cheyenne to Denver, Dr. Larry Eklund found his gas tank on empty, and pulled off in the small town of Wellington to fill up. When he did, he found a town with a great view of the Rockies and a comfortable, hometown atmosphere. He drove around a bit, and immediately knew this was the place he would soon call home.
In 2004, he opened Wellington Eye Care in an effort to provide superior services to local residents who would otherwise travel about half an hour or more for an eye appointment. Now, the small town of Wellington is becoming a regional leader in total eye care and diagnostics. In 2008, the Optometric Imaging Center opened at Wellington Eye Care. The Center is a diagnostic hub where other area eye care professionals can refer their own patients for advanced imaging.
This leading technology helps predict eye diseases and set a path toward preventive treatment. These advances in the way eye care is delivered help improve vision in people of all ages. This is the place to be — for professional, personal, and accurate care that really makes a difference.
At Wellington Eye Care & Diabetes Eye Center of Northern Colorado, each member of our vision care team is selected by Dr. Larry Eklund based upon his or her experience, professional demeanor, and dedication to providing personalized care to our optometry patients.
Our entire Wellington optometry staff is committed to ensuring the comfort and satisfaction of each and every patient. We will do our best to accommodate your busy schedule by finding appointment times that meet your needs. Our knowledgeable staff at Wellington Eye Care & Diabetes Eye Center of Northern Colorado will work with you to help you understand your vision insurance coverage and provide financial alternatives to ensure you get the best vision care possible.
We know that you have a choice when it comes to Fort Collins or Wellington optometry, so we strive to provide comprehensive eye exams, a great selection of glasses, and personalized care.